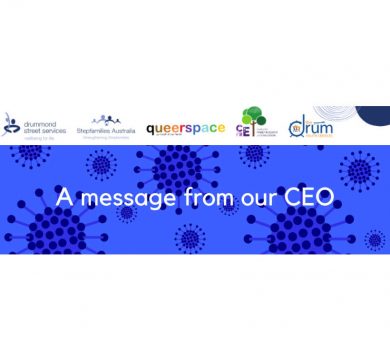 20 March 2020
COVID-19 Response – Message from our CEO Karen Field
COVID-19 Response: We are here and not going anywhere, but how we stay in touch, deliver services may change as the community grapples with responding to COVID-19.
This is a message to all drummond street service users, communities, sector friends, community organisations, support groups and suppliers.
drummond street services want to reassure you we will continue to deliver the services you need during the COVID-19 crisis. However, the way we do this may change as everyone grapples with the new challenges COVID-19 brings to our interactions. drummond street services operations will also continue throughout the crisis, however some will be modified.
We have been working to develop a COVID-19 service continuity plan to ensure we continue to respond to community needs and provide counselling, support and information over the coming weeks and months.
Firstly, we will transition from face-to-face client contact and outreach services to digital platforms as well as phone and video services. We will expand this over time to move online for groups, seminars, and community education and resources.
drummond street services will also respond to needs and issues which arise in communities as a direct result of COVID-19, such as managing good mental health, tips for working from home and managing social isolation.
Contacting drummond street services and booking appointments remains the same, simply phone 03 9663 6733 during business hours for all general enquiries or 1800LGBTIQ for LGBTIQ communities.
We will post live updates and information regarding any changes to the mode of our service delivery on all our social media platforms and websites – so stay tuned.
---
Further information:
For further information regarding COVID-19 we recommend the following sites and numbers: