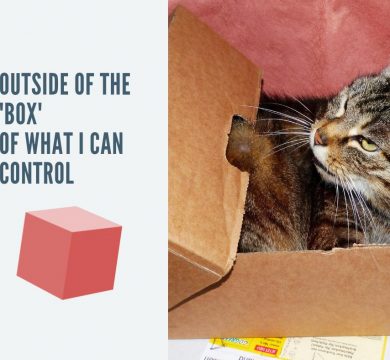 10 October 2018
Out of My Control
Guest Blogger: Sydney Ferguson
A huge slice of my step mum experiences can be put into the 'this is out of my control' box. Arguably a lot of our lives are out of our complete control however this feeling can be incredibly frustrating. Feeling frustrated I believe has lead me to be over sensitised to some situations, feel sad, had a loss of self esteem and sometimes it has turned into outright anger.
The other day was one of my step son's birthdays and as I reminded my husband before work to call him we both knew what I meant when I paused. I desperately wished I could say 'wish him Happy Birthday from me too!' However our situation is simply too complicated for this to happen, let alone for me to call him personally.
Since the first birthday that occurred when I had met my husband, we agreed that we would celebrate everyone's birthday on the weekend that fell closest to their actual day. This gave me great joy in coming up with birthday ideas and organising the occasion. However every now and again I just wish that I could see or hear from the boys on their actual birthday. And today was one of those days.
I didn't have time to mope around for long and got myself to work in a hurry. I was scrolling through Facebook during my lunch break when I came across birthday books. Not specifically for step families they are designed to allow you to write a letter to a child for every year until they are 18. There is a page with prompt sentences like 'this is the year your learned to…' or 'my favourite memory of us this year is…', followed by a page to write your 'letter'.
So I went and purchased three of these books, one for each of my step sons, for me to write a letter to them on each of their birthdays. I am hoping to be able to write these messages on their actual birthday when I don't get the chance to see or hear from them. Yes I can't write in the first few pages of their birthday book, but I can write our story from the time I met them onwards. I hope I can gift it to each of them when they turn 18 and being boys they might not empathise with how much it meant for me to write the letters. However I can only see positives in taking control of this situation that I felt completely helpless to change.
I have since written a number of entries in the boy's birthday books. I have really enjoyed reflecting on the year that's been and feel privileged that I have been witness to their growth. This simple act for me has greatly helped me focus on what I can control and take ownership of being the boys step mum. I no longer feel sad on their birthdays but look forward to carving out some time in my day to write about our shared memories.
About the Author: Sydney Ferguson* might be a pseudonym however the experiences she shares are true. A mum to a four month old boy, step mum to three boys aged 6, 10, 12, wife, daughter, sister and aunty who resides in Australia. Her house always has country music playing in the background and you can find Sydney most days working with the horses, gardening or practicing yoga. Blessed with one dog, two horses and multiple chickens and birds, she is not only a human mum but also a fur mumma too and loves both of these roles. The aim of her sharing her experiences is to connect step mums and provide a safe place for discussion on the unique, confronting and sometimes humorous challenges faced in this role. You can find her sharing her experiences at fb.me/mystepmumjourney or guest writing for numerous mum blogs nationally and internationally. Connect with Sydney through @mystepmumjourney and through  mystepmumjourney@outlook.com